Digital
2006–2022
Ich benutze den Computer nicht, um mich mit der Simulation von realer Welt zu beschäftigen. Ich möchte untersuchen, ob in der verführerischen Hyperrealität und den überraschenden, ästhetischen Spuren des Rechenvorgangs (kleine Kringel, Stäbchen und Blasen, fast landschaftlich) der digitalen Malerei, etwas anderes passiert, als wenn der Computer zur Simulation unserer sogenannten Realität genutzt wird.
Heute wird es immer normaler, simulierte Präsenz in die physische Realität zu übertragen und immer schwieriger zu definieren, was Realität ist. Leider sind die Phänomene von denen ich spreche am besten zu sehen, wenn die Arbeiten sehr gross gerechnet werden können. Eine ausführliche Beschreibung der Entstehung dieser Arbeiten am Ende der Seite.
Christine Krämer
—
Description of the creation process at the bottom of the page

All digital works have variable dimensions.
Seit Jahren arbeite ich im Wechsel an klassischer, analoger Ölmalerei im Atelier und digitaler Malerei am Computer.
Die Arbeiten nehmen Bezug zueinander und verursachen Veränderungen des jeweils anderen. Anfangs suchte ich nach Möglichkeiten Ableitungen aus meiner Ölmalerei konzeptuell in das digitale Medium übersetzten zu können. Dabei war mir mein Bruder, der theoretischer Physiker ist, sehr behilflich: er schrieb und schreibt ein maßgeschneidertes Programm für die Entwicklung der Computerarbeiten.
Die Serie der Ornamentals ist der Ausgangspunkt für die Computerarbeiten: Der Bildaufbau der Ölmalerei wird "nachgebaut" als 3 dimensional gerechneter Canvas auf den dann die Farbe projiziert wird.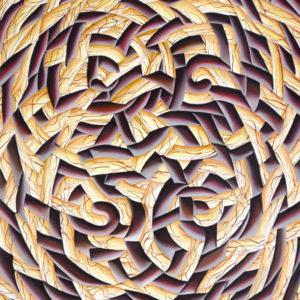 Bisher sind alle Bilder durch einen iterativen Prozess von Texturprojektionen auf dreidimensionale "Leinwände" in Form von Renderings entstanden.
Für die Erstellung und Verwaltung von digitalen Objekt-und Texturbeschreibungen wird die selbst entwickelte, proprietäre, d.h. nur für meine digitalen Arbeiten verfügbare Software "POV Textur Editor" verwendet. Die Software bietet hierfür eine grafische Benutzeroberfläche. Für die Berechnung der geränderten Bilder wird die 3D-Raytracing Software "POV-Ray" verwendet.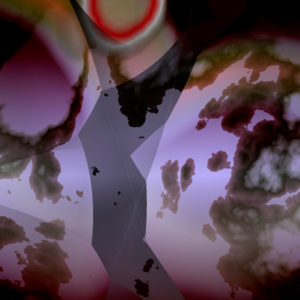 In diesen digitalen Arbeiten entsteht eine ganz eigene Ästhetik des Rechenvorgangs, die sich in faszinierender Deutlichkeit zeigt je grösser das Bild gerechnet wird. Es entstehen ganz eigene Kosmen die unendlich weiter wachsen könnten. Die verwendeten Fotografien der so genannten Realität werden immer unschärfer je grösser das Bild ist, und die virtuellen Aspekte des Bilder werden immer schärfer.

—
Das Bleibende ist das Flüchtige. Was auf der Flucht ist, bleibt.
Heiner Müller